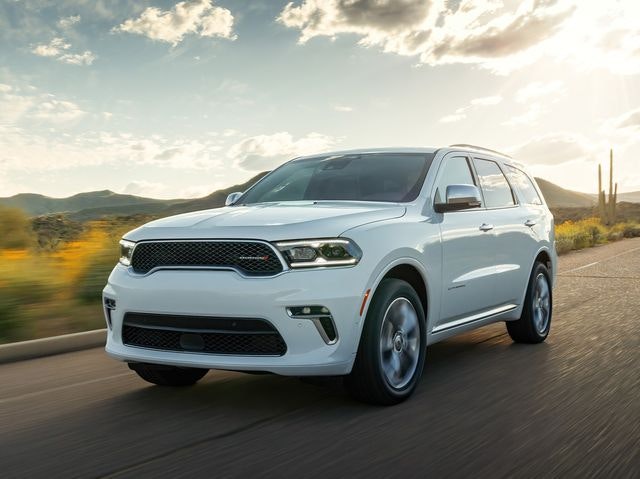 Dodge Durango vs. Hyundai Palisade
The Dodge Durango and Hyundai Palisade are both midsize SUVs that offer seating for up to seven passengers and are popular choices for families or those who need a versatile and spacious vehicle. However, there are some key differences between the two that may impact your decision when comparing them.
Performance: The Dodge Durango is known for its powerful engine options, including a V6 and V8, with impressive towing capacities. It offers a sporty and performance-oriented driving experience, with available all-wheel drive and a rear-wheel-drive platform, which can provide a more engaging and sporty driving experience compared to the Palisade.  On the other hand, the Hyundai Palisade comes with a single engine option, a V6, which provides sufficient power but may not match the Durango in terms of towing capacity or performance.
Interior Space: Both the Durango and Palisade offer three rows of seating, but the Palisade has a slight advantage in terms of overall passenger space. The Palisade offers more legroom in the second and third rows, making it more comfortable for taller passengers. The Palisade also has a larger cargo capacity, making it a better choice for those who need to haul a lot of cargo or luggage.
Features and Technology: The Palisade comes with a generous list of standard features, including a large touchscreen infotainment system, Apple CarPlay and Android Auto integration, advanced safety features, and more. It also offers several premium options such as a premium audio system, a head-up display, and ventilated seats. The Durango also offers a good selection of features, but some of them may be optional or available on higher trim levels.
Off-Roading Capability: If you're looking for an SUV with off-roading capability, the Durango may be a better choice. It offers an available all-wheel-drive system with a low-range transfer case, which can provide better traction and performance on rough terrains. The Palisade, on the other hand, is more focused on on-road performance and may not be as capable in off-road situations.
Price: The Hyundai Palisade generally has a more affordable starting price compared to the Dodge Durango. However, as mentioned earlier, optional features and higher trim levels can add to the cost of both vehicles, so it's important to compare the specific configurations you're interested in to get an accurate price comparison.
Ultimately, choosing between the Dodge Durango and Hyundai Palisade depends on your priorities and preferences. For our adventurous, off-road customers looking for a sporty and performance-oriented driving experience, looks like the Dodge Durango is your vehicle of choice!

Back to Parent Page