CDJR Accessory Upgrades
Here are some must-have accessories and upgrades for CDJR (Chrysler, Dodge, Jeep, Ram) vehicles:
All-Weather Floor Mats: Protect the interior of your CDJR vehicle from dirt, mud, and spills with durable all-weather floor mats. They are easy to clean and provide added protection to keep your carpets looking new.
Roof Racks and Cargo Carriers: Increase your vehicle's storage capacity by adding roof racks or cargo carriers. They are perfect for carrying luggage, sports equipment, camping gear, or any other bulky items, freeing up space inside the vehicle.
Trailer Hitch: If you plan on towing trailers, boats, or other recreational vehicles, a trailer hitch is a must-have accessory. Ensure you select the appropriate hitch class and weight capacity for your CDJR vehicle.
Remote Start System: Enjoy the convenience of starting your CDJR vehicle from a distance with a remote start system. It allows you to warm up or cool down the car before getting inside, especially useful during extreme weather conditions.
Performance Exhaust System: Upgrade your CDJR vehicle's exhaust system for improved sound, increased horsepower, and better overall performance. A performance exhaust can enhance the driving experience, providing a more aggressive and sporty tone.
Tonneau Cover: For Ram truck owners, a tonneau cover is a great addition. It keeps your truck bed protected from the elements while improving fuel efficiency by reducing wind resistance. Choose from various styles, including roll-up, folding, or hardtop covers.
LED Light Bars: Enhance visibility during off-road adventures or nighttime driving with LED light bars. They provide powerful illumination, making it easier to navigate dark trails or poorly lit roads.
Performance Suspension Upgrades: If you're looking to improve the handling and ride quality of your CDJR vehicle, consider upgrading the suspension components. Performance shocks, struts, and sway bars can provide better stability and responsiveness.
Upgraded Wheels and Tires: Give your CDJR vehicle a customized look and improved performance by upgrading the wheels and tires. Choose from a variety of styles and sizes to match your vehicle's aesthetic and driving preferences.
Touchscreen Infotainment System: Upgrade your CDJR vehicle's infotainment system with a touchscreen display featuring advanced features like Apple CarPlay, Android Auto, navigation, and Bluetooth connectivity. This will enhance your driving experience and keep you connected on the road.
Remember to consider the compatibility and quality of the accessories and upgrades you choose. It's also a good idea to consult with your CDJR dealership, Diehl of Grove City, to ensure proper installation and compatibility with your specific vehicle model.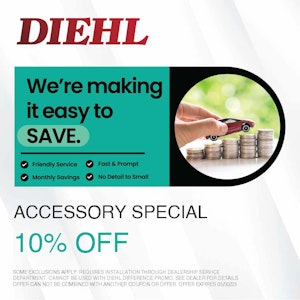 Take Advantage of 10% OFF SELECT ACCESSORIES before 05/31/23!
Back to Parent Page